Apple today published a file Supporting Documents With additional details about the new wrist temperature sensing feature available on the Apple Watch Series 8 and Apple Watch Ultra models, it turns out that the feature requires users to wear their watch for five nights before they can detect a core temperature.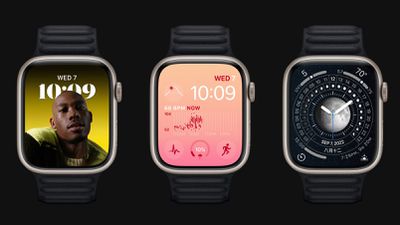 The Apple Watch Series 8‌ and Apple Watch Ultra‌ have two temperature sensors — one on the back of the crystal near your skin and the other just below the screen. While the wearer sleeps, the Apple Watch samples wrist temperature every five seconds. This design improves accuracy by reducing bias from the external environment, according to Apple.
Your body temperature naturally fluctuates and can vary each night due to your diet, exercise, alcohol consumption, sleep environment, or physiological factors such as the menstrual cycle and illness. After about 5 nights, your Apple Watch will determine your wrist's basal temperature and look for changes to it at night.
Apple says Sleep should be set up with "Track Sleep with Apple Watch" enabled, and Sleep Focus should be enabled for at least four hours per night for about five nights. Then, users can check their body measurements -> wrist temperature in the Health app for the recorded measurements.
Apple cautions that the feature is not a medical device and should not be used for any medical purpose, nor is it a thermometer, and it cannot provide on-demand measurements. An ill-fitting Apple Watch can also affect wrist temperature data.
Apple is marketing the feature in promotional materials for new Apple Watch models as a way to improve period forecast And the Retrospective ovulation estimatesbut the support document notes that tracking changes in nighttime temperature during sleep can give anyone insight into "general well-being".
For those who do not have use of this feature, wrist temperature can be turned off in the Watch app on the iPhone, under Privacy -> Wrist temperature is turned off.
popular stories
Apple confirms that iOS 16 battery percentage display is not available on some iPhone models
After the public release of iOS 16, Apple confirmed that users of older generation iPhone models will miss the ability to show their iPhone battery percentage right in the status bar. In an updated support document, Apple says that the new battery percentage display is not available on the iPhone XR, iPhone 11, iPhone 12 mini, and iPhone 13 mini. Apple does not provide…
16 hidden features in iOS 16 that you didn't know
Apple this week released iOS 16, the latest version of iOS with a new customizable lock screen, major new additions for Messages, improvements to Mail, Maps, and more. Other than the main features, there are a number of quality of life changes, improvements, and new capabilities built into iOS 16 that help improve the iPhone experience. We have listed 16 hidden features and changes…
iOS 16.1 Adds Battery Percentage to iPhone 13 Mini, iPhone 12 Mini, iPhone XR and iPhone 11 Status Bar
In iOS 16, Apple updated the battery icon on iPhones with Face ID to display the exact battery percentage instead of just a visual representation of the battery level. At launch, this feature did not include the iPhone 13 mini, iPhone 12 mini, iPhone XR, or iPhone 11, but according to multiple reports from MacRumors forums and Twitter, all of these iPhones now support the feature….
Kuo: iPhone 14 Plus pre-orders worse than iPhone 13 Mini, product strategy 'failed'
The iPhone 14 and iPhone 14 Plus both saw "poor" pre-order results, suggesting that Apple's positioning of the two new standard models may have failed, according to Apple analyst Ming-Chi Kuo. In his latest post on Medium, Kuo explained that the iPhone 14 Pro and iPhone 14 Pro Max have seen "neutral" and "good" pre-order results…
iOS 16 Features and Exclusive Changes for Newer iPhones
Apple this week released iOS 16 to the public, the latest version of its iOS operating system with major changes and new features, including a customizable lock screen, the ability to edit and unsend messages, and more. The biggest iOS 16 features, such as a custom lock screen, will be available on all devices supported by the latest version. However, the other features of iOS 16…
Dynamic Island games are available on iPhone 14 Pro
iPhone 14 Pro has a new smart dynamic island that hides the front TrueDepth camera hardware, and third-party app developers are already experimenting with ways to take advantage of the new iPhone capabilities. Apple allows third party developers to create Dynamic Island experiences, which may end up including games. Chris Smolka, the developer behind apps like…