An issue preventing GPS from working properly on iPhone 14 Pro and iPhone 14 Pro Max for many users on iOS 16.1 beta 1 has been fixed in the second beta. Updating to the latest beta version will restore location accuracy on the device.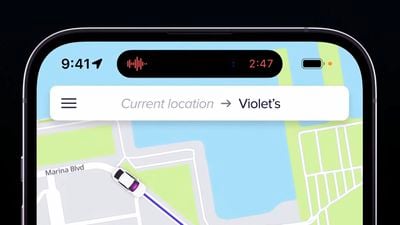 Like the Apple Watch Ultra, both iPhone 14 Pro models feature dual-frequency GPS support. This means iPhones can receive signals from GPS satellites operating at both the old L1 frequency and the high-powered L5 frequency, which can better transmit through obstacles such as buildings and trees. The combination of the two signals should improve location accuracy in mapping and other location-based apps.
Apple says iOS 16.1 will be released later this year. The update will enable Live Activities support in third-party apps, introduce a new clean energy charging feature in the US, add support for Matter accessories in the Home app, make Apple Fitness+ available for iPhone users without an Apple Watch, and more.
popular stories
AirPods Pro 2: Six new features if you're upgrading
The second generation of AirPods Pro will begin hitting customers on Friday, September 23. For customers who are still using first generation AirPods Pro or older AirPods models, there are many new features and changes you can look forward to using. We've outlined six important new features, changes, and improvements that the new second-generation AirPods Pro bring over the older…
Apple says iPhone 14 Pro camera shake issue doesn't require fix
According to Apple, the strange issue that causes the rear camera to shake on some iPhone 14 Pro and iPhone 14 Pro Max models does not require a fix. iPhone 14 Pro camera shake issue by Luke Miani When asked if customers who have experienced the issue on their new iPhone should visit an Apple Store or an Apple Authorized Service Provider, Apple said users simply need to update…
iFixit shares iPhone 14 Teardown, praising the new design with easily removable screen and glass back
Repair site iFixit today shared a teardown video of the standard iPhone 14. In a blog post, iFixit CEO Kyle Wiens praised the device's most repairable interior, calling it the most significant iPhone redesign since the iPhone X. As mentioned in a few of the reviews iPhone 14 and iPhone 14 Plus are the first iPhone models that can be opened from the back of the device since…
Realme crowdsourcing ideas for Apple's dynamic island copy
Chinese smartphone maker realme is asking "loyal fans" for ideas on how to copy Apple's Dynamic Island from the iPhone 14 Pro and iPhone 14 Pro Max. Challenging, says realme, "the UI around the camera aperture can morph into different shapes and sizes to display incoming phone calls, alerts, notifications, and more," just like Apple's Dynamic Island. The company found this idea…