Jakarta, duniafintech.com – Income insurance is one of the most important types of protection in addition to life and health insurance.
This type of insurance is intended to provide protection for your salary or income. This income protection or insurance has now been used in Indonesia, but it is still limited to certain job categories.
In this case, there are still a few insurance companies that offer income protection. Often this insurance is just an added benefit of life insurance. However, there are also a number of insurance companies that offer this protection as a standalone product.
To learn more about this insurance, let's take a look at the review below, as excerpted from koala.
Read also: Commercial Insurance is: Product List Benefits
Understanding Income Insurance
Income protection insurance or income insurance is insurance that protects or replaces income when there is a risk of serious illness, accident, permanent disability or death such that you cannot work or do business and your income stops.
In Indonesia, this income protection insurance product is not as widespread as abroad. However, there are still companies that offer this product, either as a stand-alone feature or as an add-on for life insurance, including AIA Financial, Sinarmas, and others.
In income protection insurance, there is a waiting period before the guaranteed amount can be paid. For example, you are waiting until another insurance such as health insurance stops covering you. Usually, you can determine when income protection provides coverage: the longer you wait, the lower the premium.
Income insurance benefits
The benefits of this Income Protection Insurance are in the form of cash that will be transferred directly to the customer's account. The client/family can use the money as heirs if the client dies to continue living, for example to pay debt payments, finance children's education, kitchen needs, among others. And so life goes on even if there is no longer any income.
This income insurance can also help finance until you can return to work, until retirement, or until the end of your insurance coverage period. This can be another solution when you need funds during an emergency situation plus you don't have a job.
How to calculate the amount of income insurance
The guaranteed amount of income protection insurance or income insurance should be able to offset the income if there is a risk to you.
You can use this simple formula, how much approximate the amount of money that, if deposited, interest can replace your monthly income.
Suppose your income is IDR 8 million per month. Deposit interest is 4% per annum. The current age is 35 years, and the estimated retirement age is 60 years (class 25 years).
Thus, your total income protection needs are around IDR 2.5 billion for critical illness, accident, permanent disability, and death.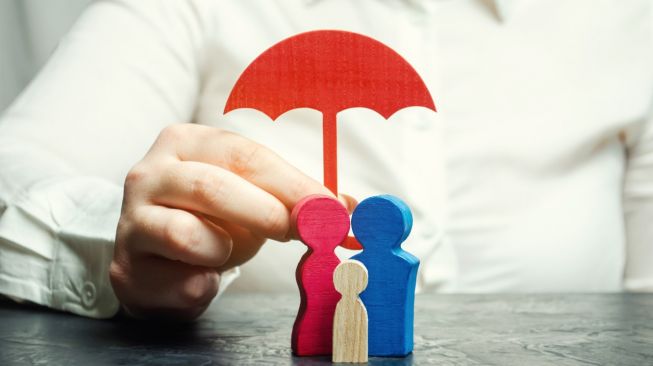 Pay attention to this in relation to income insurance
Of course, each insurance company has its own rules and policies. Well, there are several things to consider before buying income protection insurance or income insurance, and they are as follows.
1. You have a waiting period – income insurance
There is a company policy called the waiting period for certain types of insurance, which is the time a customer must first pass before they can file an insurance claim.
In this case, the policyholder was not able to file a claim during the waiting period, so, for example, if you fell ill during the waiting period, you cannot file a claim against your insurance policy.
When you conceal your illness to purchase an insurance product, even if you have exceeded the waiting period, if it is proven that you have the disease before purchasing the policy, your claim also has the right to be rejected by the insurance company.
There may be an insurance company that has a policy that you can still purchase health or critical illness insurance products when you are sick. However, you can get a higher premium.
2. Long waiting period affects premiums – income insurance
The waiting period also affects the amount of premium to be paid. And the longer the waiting period, the cheaper the insurance premium. The shorter the waiting period, the higher the premium cost.
Read alsoHow to spend car insurance: Life [Car Life] and health
In addition, the amount of the premium is determined by other factors, including the age at the time of application, the client's medical history – including smoking habits – for the type of job – whether the client's job is high, medium, or low-risk.
The difference between income insurance and other insurance
Here are the most important differences between income insurance and other insurances that you need to know.
Income protection insurance helps participants return to work
Meanwhile, income protection insurance provides coverage to clients when they are sick or have an accident due to illness until they can work again or even enter retirement.
In short, Income Protection Insurance policy holders will benefit from this insurance when they are unable to work due to some illness/accident
There is a waiting period or waiting period
It should be noted that one of the features of insurance with the type of income protection is the presence of a waiting period (waiting period) until the sum insured becomes liquid.
Usually, policyholders can set their own grace period until the security deposit is liquidated.
The long waiting period depends on the amount of the premium to be paid
This waiting period is closely related to the amount of the premium that must be paid. The longer the waiting period, the lower the premium to be paid.
Income Protection Insurance Predictive
This expectation means that the policy holder has prepared himself by registering in his name as the premium is paid when he is healthy so that a claim can be made in case of accident or illness.
Coverage is different from life insurance
Some people may think that the type of income protection insurance is the same as pure life insurance, but this is not true. The main difference is in the dependent object.
In life insurance, the claims will be disbursed to the designated party (also known as heirs), while for income protection insurance, the claims will be liquidated to the policyholder. Thus, its nature does not replace the amount of income normally obtained from labour.
Some income insurance reviews that you need to know. Come get the product now!
Read alsoHow to easily cash out Allianz insurance latest 2022
Read on for the latest Indonesian fintech and crypto news only at Duniafintech.com.